24 Port ST 2 Door Lockable Wall Mounted Enclosure - Loaded
---
Brand:

Excel

Product Code:

202-036
---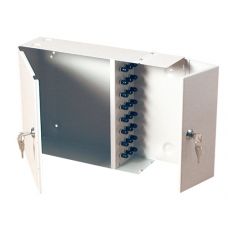 24 Port ST 2 Door Lockable Wall Mounted Enclosure - Loaded
Our 24 Port ST 2 Door Lockable Wall Mounted Enclosure - Loaded helps to support your cable management system. Suitable for both professional and residential networks, they are designed to create fast and reliable connection. When combined with other electrical links, these patch boxes are a cost-effective and suitable addition.
Each one is designed for high-density and secure terminations. They feature two hinged and lockable doors which protect both the terminations inside and the patching. For high-traffic or repair-rich environments, this offers additional security on all connections and eliminates the risk of disconnect at any time. We manufacture each one from a single piece, chosen for it's strength and durability over time. The interchangeable adaptor plate fitted as standard can be exchanged out for other alternatives. At Adept Networks, we have SE, SC (Duplex) and LC (Quad) in-line options available.
For convenience, our patch boxes have 20mm knockouts and pre-drilled fixing holes. They are supplied with a 24 way splice bridge, cable entry glance and 4 self-adhesive cable management ties. As with all of our collection, we focus on designing and manufacturing networking products that work as hard as your business does. The materials we use and the designs available are chosen for their suitability to the role. At Adept Networks, we have years of experience in networks and connections.
If you have any questions or queries about our 24 port ST 2-door lockable wall mounted enclosure - loaded, contact us today. Our team can provide tips and advice to help guide you towards the most appropriate solution.
Write a review