1m Cat.5e Bladed LSOH Patch Lead
---
Brand:

Excel

Product Code:

See Options
---
---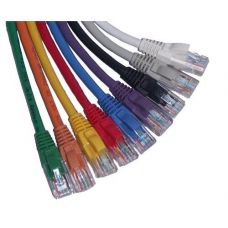 1m Cat.5e Bladed LSOH Patch Lead
When it comes to networking, you need products that won't let you down. This includes the right cables and components to complete your system. Our product is high quality and meets all of the current standards and requirements for patch leads. Each cable features a low smoke zero halogen outer sheath and a selection of other features which makes them perfect for use in any high density or data centre environment which requires blade server/switch chassis deployments or high density patching fields. Maximise the use of your rack space.
Features
Independently Verified
Supports Gigabit Ethernet
LSOH Cable Sheath
Category 5e Compliant
Choice of Colour
Blade Style Boot with Clip Protector
No.3 cabling system by market share, as reported by BSRIA
Product Overview
Excel Category 5e Unscreened Patch Leads are manufactured, tested and independently verified to the ISO11801 and EN 50173 Category 5 and EIA/TIA standards for enhanced performance.
Each cable consists of 8 colour coded stranded 24AWG conductors twisted together to form 4 pairs with varying lay lengths. The outer sheath is of LSOH construction. A choice of jacket colours enables departmental or application identification, where necessary.
Cables are fitted with plastic strain relief boots, for applications that may require continuous patching, or a degree of stress relief applied to each cable. The boot is of a slimline blade style suitable for high density patching applications, shaped to also provide protection to the latch of the connector.
System Warranty
When installed with Excel Patch Panels, Cables and Data Outlets by an accredited Excel Cabling Partner, this product is supported by a comprehensive 25 year product warranty.
Typical Applications
10 Base-T
100 Base-TX
1000 Base T Gigabit Ethernet
155 Mbps ATM
Token Ring
622 Mbps ATM
Write a review