2m Lockable Cat6 Patch Leads | Adept Networks
---
Brand:

Excel

Product Code:

101-104
---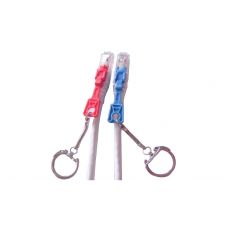 2m Lockable Cat6 Patch Leads | Adept Networks
Prevent disconnection and unnecessary downtime within your business with our 2m Lockable Cat. 6 UTP Patch Leads. Manufactured by Excel and according to all ISO and EN requirements, these quality cables will fit the needs of your business. They form part of our online store, offering everything you need to create a productive cable system.
These UTP patch leads meet the needs of busy cabling systems. They are fully compliant with TIA/EIA, ISO & EN channel specification requirements. When used appropriately, you'll achieve optimum performance levels within your Excel Category 6 set-up. Each one is manufactured with a blade-style, strain-relief and slimline moulded boot. This allows them to be fully suited for use in high-density applications as well as in offices and data centre environments. Our cables are fully Cat6 compliant while also being suited to backward compatibility with Cat5e options. The low smoke, zero halogens (LSZH) outer sheath minimises the emission of toxic gases, in the event of a fire to protect the safety of all employees. And finally, for further safety, there are security locking keys fitted on one of both ends. Use this to minimise disconnections and, therefore, loss of networking strength and safety.
Here at Adept Network, we have a team of highly experienced and talented individuals who can help you make the right decision. If you have any questions about the 2m Lockable Cat. 6 UTP Patch Leads, please get in contact today.
Write a review